You can turn up the verbosity of log messages that are logged into your atlassian-confluence.log file (if not configured otherwise in your instance) by setting the log level of the app to DEBUG.
Verbose logs can help you to figure out what may be wrong with the app. In case of an support ticket, we may also ask you to provide us a log file.
To do this, navigate to Logging and Profiling of your Confluence configuration:

On this page, you can add or modify logging levels for various confluence components.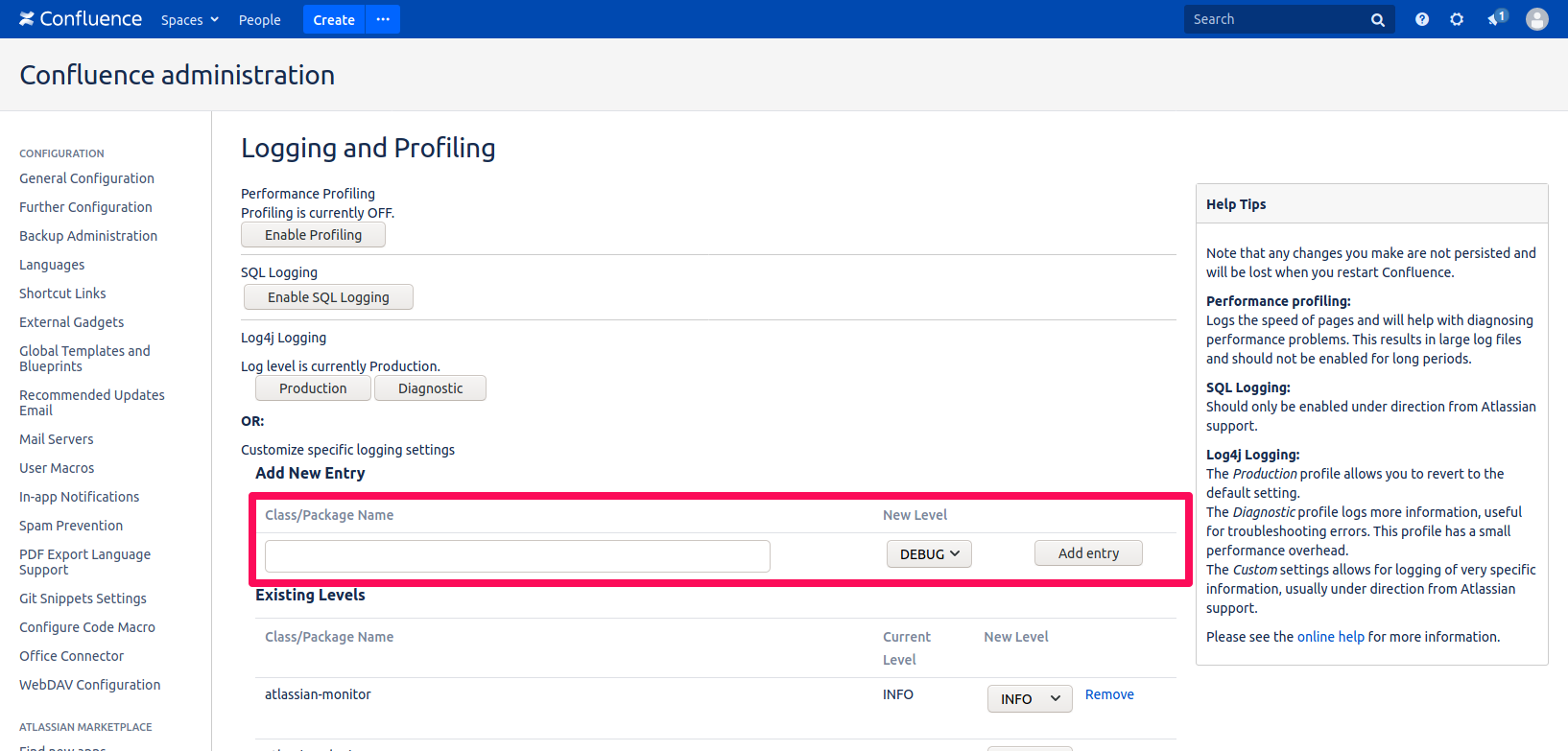 In "Add New Entry", set the Level to DEBUG and set the "Class/Package Name" to the following name:
de.scandio.confluence.plugins.pocketquery
Add another entry with the following name:
de.scandio.atlassian.plugins.pocketquery
Below some example log output:
2019-10-22 08:36:11,463 INFO [http-nio-8090-exec-8] [plugins.pocketquery.execution.PocketQueryDefaultExecution] run Running PocketQuery execution in of type {PocketQueryDefaultExecution}: queryName={SectionItems}; parameterString={null}
2019-10-22 08:36:11,465 DEBUG [http-nio-8090-exec-8] [pocketquery.managers.impl.ConfluencePocketQueryPlatformManager] isQueryAllowedInContext Checked if query SectionItems with spaces attribute '' is allowed in current space PQ -- result: true
2019-10-22 08:36:11,467 DEBUG [http-nio-8090-exec-8] [plugins.pocketquery.execution.PocketQueryDefaultExecution] executeQueryAndTransformResult Executing query: queryName = SectionItems; databaseName = PocketQuery; databaseUrl = jdbc:mysql://localhost:3306/pocketquery
2019-10-22 08:36:11,470 DEBUG [http-nio-8090-exec-8] [plugins.pocketquery.execution.PocketQueryDefaultExecution] mstart Start measuring execution time...
2019-10-22 08:36:11,471 DEBUG [http-nio-8090-exec-8] [managers.impl.delegates.SqlExternalDatabaseManager] connectViaJdbc Trying to connect to JDBC database PocketQuery | jdbc:mysql://localhost:3306/pocketquery | com.mysql.jdbc.Driver | root
2019-10-22 08:36:11,472 DEBUG [http-nio-8090-exec-8] [managers.impl.delegates.SqlExternalDatabaseManager] loadDriver Trying to load database driver com.mysql.jdbc.Driver
2019-10-22 08:36:11,473 DEBUG [http-nio-8090-exec-8] [managers.impl.delegates.SqlExternalDatabaseManager] loadDriver I could load the driver =)
2019-10-22 08:36:11,475 DEBUG [http-nio-8090-exec-8] [managers.impl.delegates.SqlExternalDatabaseManager] connectViaJdbc I'm connected =)
2019-10-22 08:36:11,476 DEBUG [http-nio-8090-exec-8] [plugins.pocketquery.execution.PocketQueryDefaultExecution] executeQueryAndTransformResult Raw result retrieved: {[{Section=Red, Item=Apples}, {Section=Red, Item=Cat}, {Section=Red, Item=Frog}, {Section=Blue, Item=Bike}, {Section=Blue, Item=Pig}, {Section=Green, Item=Slug}, {Section=Green, Item=Bird}]}
2019-10-22 08:36:11,477 DEBUG [http-nio-8090-exec-8] [plugins.pocketquery.execution.PocketQueryDefaultExecution] mend End measuring execution time. Result: 7 ms.
2019-10-22 08:36:11,478 DEBUG [http-nio-8090-exec-8] [plugins.pocketquery.execution.PocketQueryDefaultExecution] mstart Start measuring execution time...
2019-10-22 08:36:11,483 DEBUG [http-nio-8090-exec-8] [pocketquery.managers.impl.DelegatingExternalDatabaseManager] convert Nashorn engine detected on this Java platform. Using Nashorn converter engine.
2019-10-22 08:36:11,488 DEBUG [http-nio-8090-exec-8] [plugins.pocketquery.scripting.NashornConverterEngine] executeConverter Loading JS libraries: {/pocketquery-core/lib/moment/moment.min.js}
2019-10-22 08:36:11,488 DEBUG [http-nio-8090-exec-8] [plugins.pocketquery.scripting.NashornConverterEngine] executeConverter Loading: {/pocketquery-core/lib/moment/moment.min.js}
2019-10-22 08:36:12,027 DEBUG [http-nio-8090-exec-8] [plugins.pocketquery.scripting.NashornConverterEngine] executeConverter Loading: {/pocketquery-core/core/js/nashorn/pocketquery-converter.js}